5 Day Tour:
December 13-17, 2022
Pricing
New York City Christmas Base Tour Pricing
Double Occupancy, Per Person
Base Pricing is always calculated for double occupancy.
Solo Traveler
$550 supplemental for Solo Travelers.
Christmas in Connecticut Extension Tour Pricing – SAVE $650
Double Occupancy, Per Person
Base Pricing is always calculated for double occupancy.
Solo Traveler
$1050 supplemental for Solo Travelers.
Tour Highlights
Accommodations in Manhattan
Broadway Show
Rockettes Christmas Show
Dyker Heights Light Displays
Bronx Zoo
Botanic Gardens
Christmas Markets & More!
Tour Includes
Roundtrip airfare from Chicago
First Class Hotel Accommodations
Daily Breakfast
2 Dinners
Deluxe Motorcoach Transportation
Admissions to all listed Attractions
Roundtrip airport transfers in the Chicagoland area
Guided by Bill Ball
Baggage Handling
All Gratuities
Tour Itinerary
Day One We fly to the city that never sleeps (or you will continue on from Connecticut if you continue your adventure) and begin with a city tour with a touch of Christmas. We'll walk in Central Park, see Times Square, the
fabulous iconic windows of Macy's (even some time to go inside), the United Nations complex, Broadway, Grand Central Station and the Christmas Markets. We celebrate our Christmas spirit tonight at our Welcome Dinner. This is the first of all five boroughs in New York. Tours rarely leave Manhattan, but we get to all 5 with awesome sights in each.

Day Two We begin with a very special Fifth Avenue tour. This is the main street of New York with most of the great department stores and the great architectural masterpieces. We'll go by Tiffany's (Breakfast anyone?), visit the great St. Patrick's Cathedral, window watch the many stores and end at the fabled Rockefeller Center with the giant Christmas Tree and ice rink. Skating anyone? This evening we have tickets to a top Broadway show that won't be coming to Chicago soon—usually with a cast of TV and movie stars.

Day Three We have a matinee performance (So you can do another Broadway show if you like) of the Rockettes today. They are the show and symbol of Christmas in New York. If you've seen the Rockettes Christmas Show in Chicago or elsewhere outside New York, you've not see this spectacular. Literally twice as many ladies high-kicking, special visual effects no where else duplicated and more variety acts. Bill never misses a New York Rockettes show and they change year to year so the crowds keep coming back. This evening we have a special
treat—the lights in the Brooklyn neighborhood of Dyker Heights—considered to be the most dedicated 8 blocks in the world. Most of the displays are professionally done and those that aren't are even more over the top. This is a wonder to behold. Don't worry, we'll get you back to Manhattan in time for your Broadway show. This is borough number two.

Day Four We begin the day heading to borough 3—Staten Island. From Staten Island you get a great view of the Manhattan skyline—picture opportunity! We will visit the somber 9/11 Staten Island Memorial before heading to the main 9/11 Museum in lower Manhattan. This is a touching tribute to that awful day. If you've seen this already, Bill will take you on a special tour in Lower Manhattan instead. This afternoon we head to borough 4—the Bronx. Two special Christmas displays await. The Botanical Gardens has a show room in their indoor gardens of all the major buildings of New York made out of all organic materials. A holiday train display runs around
this Christmas only treat. Next stop, next door is the fabled Bronx Zoo featured on The Zoo television program. This is one of the biggest and best zoos in the world. How many of the animals have you seen on a Passport tour? As the sun goes down we stay in the Zoo to witness their unique Christmas Lights display. Not only do they light up the zoo, but they have animal ice sculptures and giant animal shaped lanterns—you have to
see it to believe it. This is a holiday highlight!

Day 5 One more borough to tour before we depart the Big Apple. Queens was the sight of the 1940's
World's Fair and the much photographed Uniglobe statue is here (Your chance to photograph it.) We will also see the famous National Tennis Center where the US Open is held. And Bill has one more treat saved up for you (yes, a surprise) before we head to the airport with enough Christmas Spirit to light a tree.
---
Tour Extensions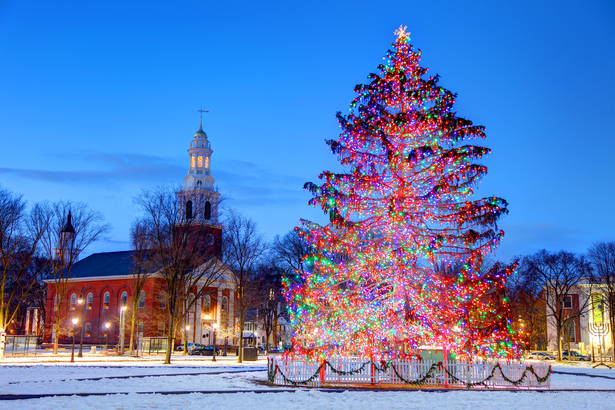 Tour Connecticut Before New York!
Includes: Mark Twain House, Yale University, PT Barnum Museum, Wadsworth Art Museum, Holiday Light Displays & More!