10 Day Tour:
September 1-10, 2021
Pricing
Southern Italy Base Tour Pricing
Double Occupancy, Per Person
Base Pricing is always calculated for double occupancy.
Solo Traveler
$950 supplemental for Solo Travelers.
Northern Italy Extension Tour Pricing – SAVE $2,395
Double Occupancy, Per Person
Base Pricing is always calculated for double occupancy.
Solo Traveler
$950 supplemental for Solo Travelers.
Tour Highlights
5
Places to See
Before You Die
Naples
Bari
Catania
Sicily
Castel del Monte
Trulli of Alberobello
Syracuse
Agrigento
Amalfi Coast
Tour Includes
Roundtrip airfare from Chicago
First Class Hotel Accommodations
Daily Breakfast
6 Dinners
Deluxe Motorcoach Transportation
Admissions to all listed Attractions
Roundtrip airport transfers in the Chicagoland area
Guided by Bill Ball
Baggage Handling
All Gratuities
Tour Itinerary
Day One
Southern Italy is one of the most beautiful and historic regions of Europe, but is often overlooked for the more well-known North—that is no longer the case.
Day Two
Landing in Naples, it is time to learn the story of Italy and how fractured it was up to the time of the US Civil War. Naples is the ipso facto capital of the South with its multi-cultural architecture, wide expansive beaches and its historical connection between the East and West, it is a must-see destination.
Day Three
We drive along one of the top scenic routes in all of Europe—the Amalfi Coast. This road links little towns and villages that literally cling to the cliffs overlooking the sea. Nowhere on earth is there such an amazing mix of manmade and nature. We end the day visiting one of the ancient wonders—Herculaneum, a town that was covered by the lava from Mount Vesuvius' eruption in 79AD. This is a day you will never forget.
Day Four
It's to the heal of Italy today and the town of Bari. This area is rich in historic sites and the first we visit is the UNESCO World Heritage site of the Castel del Monte. Crowning one of the few hills of the wine region, this fortress is awesome in its prominence. Frederick II, a Norman King of Sicily, ruled and built this area up in a splendor never seen since. The royal apartments of this royal residence are unmatched.
Day Five
As we head toward the 'toe' of Italy, we visit yet another unusual and dramatic UNESCO site—the Trulli of Alberobello. This is the rural Italy featured in movies—the land of grapevines and olive trees, small villages with cobblestone streets and ancient families that till the land just as their ancestors did. Here are the Trulli—stone buildings shaped into cones…whitewashed and topped with crosses. This is the idyllic Italy that you have dreamed of.
Day Six
We cross over, by ferry, to Sicily and are immediately immersed in another culture. Sicily is really like another country in its traditions, architecture, and history. We start our visit driving up the famous volcano in Europe—Mt. Etna. Still active, you will see steam rising from the rocks and homes covered with lava from recent eruptions. This is one of the most incredible natural wonders of Europe. We end the day in Catania, a city made from the lava of Etna.
Day Seven
We visit the city of Syracuse—the land of Archimedes, the center of ancient Greek innovation and one of the powers of the Greek Empire. Here are some of the oldest temples in the world dating to the 6th century BC. Here are both Roman and Greek amphitheaters, the Altar of Zeus and Ear of Dionysus—a cave so named by Caravaggio for its acoustical properties. We will also visit the Necropolis of Pantalica, where over 4000 tombs dating to the 13th century BC are found. This prehistoric site brings the human presence here into focus.
Day Eight
We head to Agrigento today—one of the best-preserved Greek ruins in the world. Yes, I said Greek. This city was founded in 580 BC for wine and olive export. In fact, most of the Greek temple pictures in history books are taken here, not in Greece. Here are the famous temples to Hercules, Hera and the most perfect of all—Concordia. Better have an extra photo card because you will need it. We end the day at the capital of Sicily —Palermo.
Day Nine
Before we tour Palermo, we will visit the UNESCO protected church of Monreale with its Arabic design. It has more than 6000 sq meters of mosaic—second only to Hagia Sophia in Constantinople—including a glowing Christ that will amaze you. Our tour of Palermo will include the most important buildings and historic sights including the Cathedral, the incredible four-part fountain of the Piazza Pretoria dedicated to the seasons and the ornate Palazzo dei Normanni. Bill has a surprise here as well that you will never forget.
Day Ten
We fly home today with memories of strange tales of history, unique architecture, beautiful vineyards and olive groves, quaint villages and a people that are open and welcoming to outsiders.
---
Tour Extensions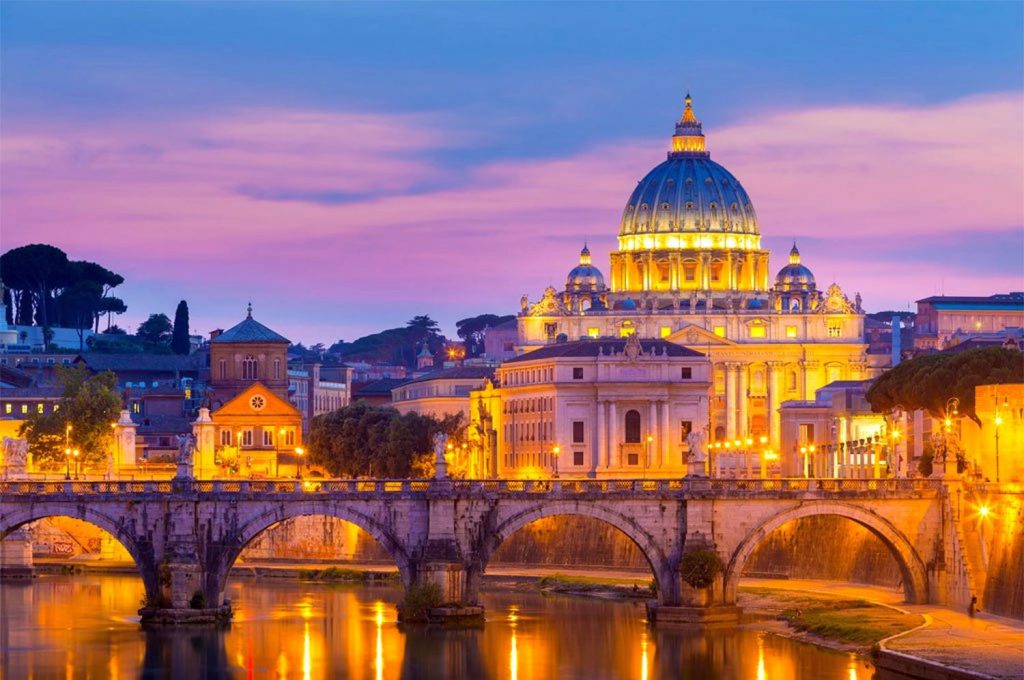 Northern Italy Extension
Tour Includes Milan, Florence, Venice, Pisa & Rome, Rock Art of Valcamonica, The Last Supper, Villa Adrian, Vatican Museum, Bill's Venetian's Venice tour.