10 Day Tour:
January 10-19, 2022
Pricing
Jordan Base Tour Pricing
Double Occupancy, Per Person
Base Pricing is always calculated for double occupancy.
Solo Traveler
$850 supplemental for Solo Travelers.
Israel Extension Tour Pricing – SAVE $1,000
Double Occupancy, Per Person
Base Pricing is always calculated for double occupancy.
Solo Traveler
$1300 supplemental for Solo Travelers.
Tour Highlights
Amman
Jerash
Madaba
Mount Nebo
Petra
Candle-lit tour of Petra
Red Sea
Dead Sea
Shaumari Wildlife Reserve
Tour Includes
Roundtrip airfare from Chicago
First Class Hotel Accommodations
Daily Breakfast
Daily Dinner
Deluxe Motorcoach Transportation
Admissions to all listed Attractions
Roundtrip airport transfers in the Chicagoland area
Guided by Bill Ball
Baggage Handling
All Gratuities
Tour Itinerary
Day One Depart on an overnight flight to Amman, Jordan.

Day Two We arrive late this afternoon and transfer to our hotel. This evening we gather for a welcome
dinner.

Day Three Our touring begins in ancient Jerash, founded 6500 years ago. We see the Greco-Roman
ruins, walk the colonnaded streets, visit theaters and plazas, baths and fountains. This is one of the best
Roman ruins in the world. We return to explore Amman, the capital. This city is a mix of ancient and
modern. On one hand it is the commercial center with art galleries, cafes and nightlife, on the other it
is the custodian of a Roman amphitheater, an Ammonite Citadel and an archeological museum. Other
stops include the spice market and the King Abdullah Mosque.

Day Four We travel to Madaba. This city has a number of mosaic creations, dating from the Byzantine
and Umayyad eras. The most famous and fabulous is the 6th century map of Jerusalem and the Holy
Land, made of 2 million pieces of colored stone. We continue to Mount Nebo, one of the most revered holy sites in Jordan. It is believed to be the last resting place of Moses.

Day Five We head to one of the better wildlife preserves in the middle east—Shaumari Wildlife Reserve. Here rare and endangered animals are bred and released into the wild. The unicorn of the desert—the oryx, is found along with Persian Onagers (donkeys), gazelles and wild cats. We will do a safari to capture these bucket-listers. We will head to Petra where we will see the great architectural wonder candle-lit. What a night experience!

Day Six Today is a lifetime highlight. We arrive at Petra, one of the most famous UNESCO sites. These
magnificent rock cut buildings were carved in the early first century and over 500 survive. Among the
buildings we see are a Roman-style theater, sacrificial altars and temples. Bill has a very special surprise for you this afternoon that will make this one of your best tour days ever.

Day Seven We travel to the beautiful landscape that is Wadi Rum where the monolithic rockscapes rise from the
desert floor. We'll do a 4×4 tour of this UNESCO site. We end our day at the crystal clear waters of the Red Sea. We will be staying on the shores of this world wonder.

Day Eight This morning we will enjoy this marine paradise
by doing a glass bottom boat looking for sea turtles, dolphin and colorful fish. This afternoon we visit Kerek Castle, a Romanesque stronghold built within the walls of the old Ottoman city. We overnight at the Dead Sea.

Day Nine This morning we not only get up close to the Dead Sea but we swim in it. Well, swim is an exaggeration since you float in the waters in this the lowest of places on earth. On our way back to Amman, we stop at the
Jordan River at Bethany where John the Baptist baptized Jesus. Once in Amman, we visit the new National Museum packed full of treasures from Greek, Roman, Ottoman and Arab eras.

Day Ten We fly home today with nature, historic architecture and the unique culture of Jordan on our minds. OR
you continue on the border of Israel.
---
Tour Extensions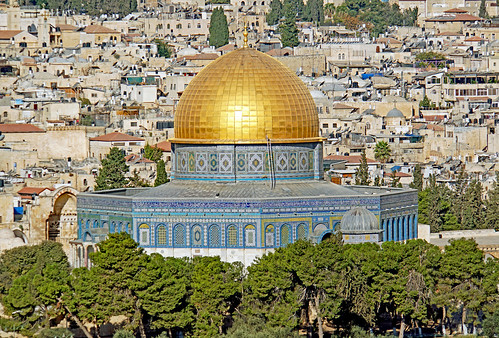 Israel Extension
Tour Includes Bethlehem, Masada, Church of the Nativity, Dome of the Rock, Way of the Cross, Sea of Galilee, Tel Aviv and so much more!