13 Day Tour:
February 18 – March 2, 2020
Pricing
Double Occupancy, Per Person
Base Pricing is always calculated for double occupancy.
Solo Traveler
$2000 supplemental for Solo Travelers.
Tour Highlights
2
Places to see
before you die
400
Mountain Gorillas
Left in the world
Entebbe
Uganda Wildlife Education Center — Chimps Hands-On Program
Bwindi Impenetrable Forest
Queen Elizabeth NP
Ngamba Island
Gorilla Encounter
Tour Includes
Round trip airfare from Chicago
All Internal Flights
First Class Hotel Accommodations
Daily Breakfast
Daily Lunch
Daily Dinner
Gorilla & Chimpanzee Permits
Deluxe Motorcoach Transportation
Admissions to all listed Attractions
Roundtrip airport transfers in the Chicagoland area
Guided by Bill Ball
Baggage Handling
All Gratuities
Tour Itinerary
Day One Depart Chicago on an overnight flight to Entebbe, Uganda.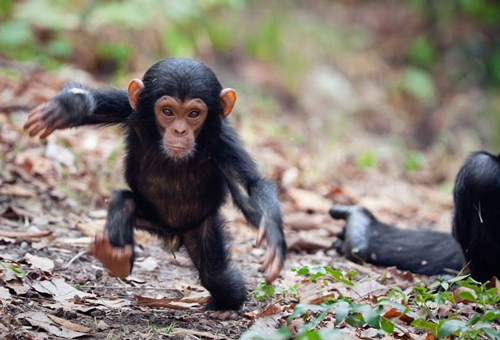 Day Two and Three We visit the Uganda Wildlife Education Center for some one on one time with some of our relatives—the chimpanzee.  We will have hands-on interaction with the chimps including holding and carrying them.  To do this exclusive program, we will need to split the group so that all may have a chance for this unique experience.
Day Four This morning we head to Kibale National Park.  Enjoy the forest scenery and tea plantations as we travel to Kibale.  This evening we have a night forest walk in search of bush babies, pottos and other nocturnal animals.
Day Five We travel into Kibale National Park this morning to see the chimpanzees.  Driving and walking in the forest, we get up close to these incredible animals and learn how they live in the forest.  This afternoon we continue to explore the park and see other species including red-colobus, grey-cheeked Mangabeys, black and white colobus monkeys, butterflies, birds and much more.
Day Six This morning we head to Queen Elizabeth National Park.  Upon arrival, we enjoy a game drive in the park, with the opportunity to see the elephants, Uganda kobs,  lions, giant forest hogs, leopards, cape buffalo, defassa waterbucks, topi, bushbucks and much more. In the afternoon you will go for a boat ride along the Kazinga Channel.  The channel is known for its abundant hippo population.  This is also a great opportunity for bird watching.
Day Seven We continue our exploration of Queen Elizabeth National Park as we learn to track lions. As we look for various prides and the tree climbing lions in the park, we will end our day in the southern sector of Queen Elizabeth National Park in time for the sun to go down.
Day Eight Today we head to Bwindi Impenetrable Forest, home of the Gorilla. This evening we go into the village to meet the locals. We return for dinner and overnight.
Day Nine  Today is reserved for Gorilla Trekking.  Gorilla Permits are required to be able to trek for the gorillas.  Groups of 6 people trek with a private guide to see different family groups of gorillas so that the disturbance to the gorillas is limited.  Our group will be split over two days.  While half of the group treks for the gorilla, the other half will enjoy a forest walk and explore the local area.
Day Ten This morning we will visit the Batwa "The Keepers of the Forest".  These forest-dwelling people will give us some insight into how they have survived for the last 60,000 years among the wildlife.  We will continue our day with a nature walk to the waterfalls in the park.
Day Eleven We depart Bwindi and fly back to Entebbe for our overnight.
Day Twelve   We board a speed boat today to Ngamba Chimpanzee Island Sanctuary.   After we spend some time watching the chimps and learning about the sanctuary, we will return to the mainland for a boat cruise on Lake Victoria.  Over 250 bird species call the lake home including the super rare Shoebill.  Along with rare birds, the lake is home to other aquatic animals including otters.
Day Thirteen After breakfast, it is time for us to transfer to the airport and begin our journey home