8 Day Tour:
July 9-16, 2022
Pricing
Base Tour Pricing
Double Occupancy, Per Person
Base Pricing is always calculated for double occupancy.
Solo Traveler
$999 supplemental for Solo Travelers.
Grand Canyon to Yellowstone Combo pricing – SAVE $1400
Double Occupancy, Per Person
Base Pricing is always calculated for double occupancy.
Solo Traveler
$1998 supplemental for Solo Travelers.
Tour Highlights
3
Places to See
Before You Die
&
5 National Parks
1
of Top Events in the World
Glacier National Park
Waterton National Park
Going to the Sun Road
Yoho National Park
Morraine Lake
Lake Louise
Emerald Lake
Banff Springs
Ice Field Parkway
Calgary Stampede
Big horn, Mountain goats, Grizzly, Moose & more!
Tour Includes
Roundtrip airfare from Chicago
First Class Hotel Accommodations
Daily Breakfast
6 Dinner
Deluxe Motorcoach Transportation
Admissions to all listed Attractions
Roundtrip airport transfers in the Chicagoland area
Guided by Bill Ball
Baggage Handling
All Gratuities
Tour Itinerary
Day One You will either fly in to join the Yellowstone group or continue on from Yellowstone to head
to one of America's most beautiful and wildlife-rich parks—Glacier National Park. Combine majestic
mountains with big horn sheep, mountain goats and grizzly bears and you have a natural paradise.

Day Two Today you will take the most beautiful drive you have ever taken—Going to the Sun Road.
In open-top jammer vehicles, we will drive through mountain passes, around roaring waterfalls and over
some of the most majestic peaks this side of the Rockies. There will be no shortage of wildlife either.
This will be your best chance to see the illusive mountain goat, the unpredictable marmot and
speedy bighorn. But that's just the start. We continue our adventure to one of the parks where seeing
bears in almost a given—Waterton National Park. This park has it all—a crystal clear lake, glorious
mountains and lots of wildlife. Elk, mule deer, black and brown bear and bighorn sheep call this park
home.

Day Three We head up into the Canadian Rockies today. We start in the lesser known Yoho National
Park. This is the home of one of the true wonders of nature—Emerald Lake so named because of its rich
deep green color. Wildlife like bighorn, pine martin, bear, elk and pika abound. We also visit the unbelievably sculpted Natural Bridge and the torrent of the Kicking Horse River that carved. You'll see why they call it Kicking Horse.

Day Four This is lake day with two of the world's most stunning lakes on the docket. Morraine Lake,
formerly on the Canadian ten dollar note, is surrounded by some of the most impressive mountaintops found anywhere. The second lake needs no introduction—Lake Louise—named for a royal family member, this lake was made to be photographed with its deep green waters and glacial surroundings. We have a surprise today that will take your breath away.

Day Five We head to Jasper through a prime wildlife corridor inhabited by black and grizzly bears, elk, moose, mule deer and wolves. Good eyes and a quick camera will be rewarded today. We will explore Maligne Canyon and marvel at how nature is the best sculptor ever. We will wonder at the disappearing Medicine Lake and the moose-heavy Maligne Lake.

Day Six A drive through the fabled Ice Field Parkway reveals how it got its name. Huge glaciers, near freezing,
ornately colored lakes and outstanding wildlife sighting are in store for us. The highlight of the day will be taking
an ice buggy out onto a glacier so you can walk on top! This is a once-in-a-lifetime experience that will leave you
awestruck. Yet that is not all. Tonight, we stay and have dinner in the iconic castle of the Rockies—Banff Springs
Hotel.

Day Seven To the Stampede!! This is like a state fair on steroids. There are horse shows, farm livestock exhibits,
multiple concerts, an Indian village, military exhibits, games, carnival rides and lots and lots of food. It is a day
that you will never forget and yet that is just the beginning. The Big Show and Chuckwagon Races are somethin
you have to see to believe. The Chuckwagon Races are just that 32 horses, 4 chuckwagons and a crazy oval track—it is just a slight slip from disaster. This one of the most exciting sports around. That though, surprisingly, is not the highlight. The highlight is the best outdoor variety show ever produced with hundreds of singers, dancers, native Americans, acrobats and showmen all entertaining YOU. Top that off with a first class fireworks show and you know why it is called the Big Show.

Day Eight We head home today with majestic mountains, powerful bears, serene lakes, wild chuckwagon races and the best show you will ever see all in our memories.
---
Tour Extensions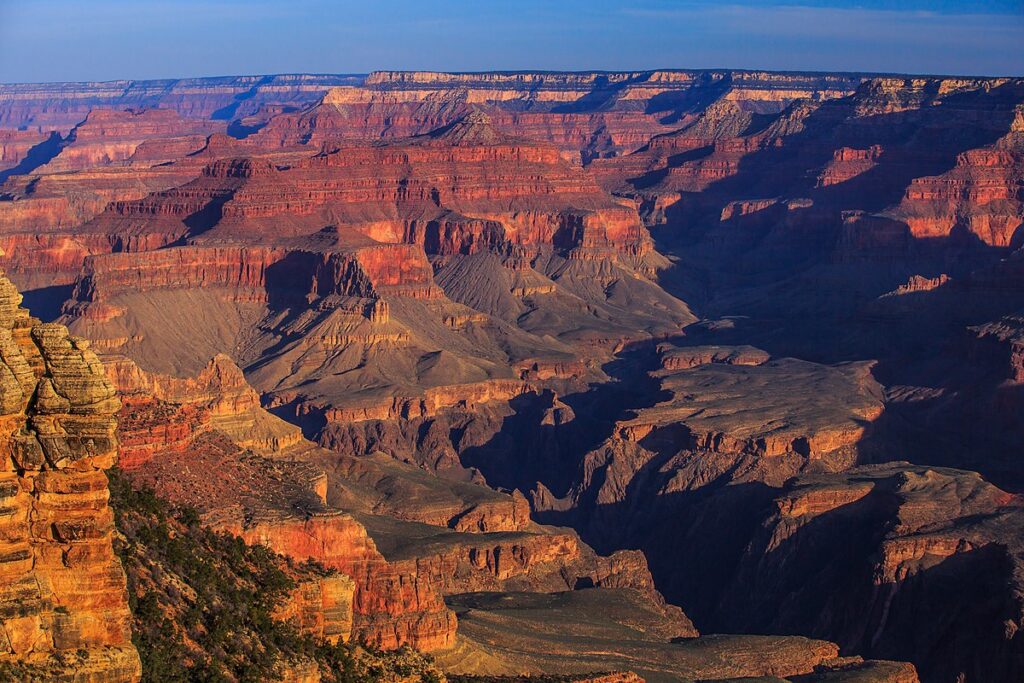 Grand Canyon to Yellowstone
North Rim of Grand Canyon, Zion National Park, Bryce Canyon, Capital Reef National Park, Salt Lake City, Grand Tetons, Yellowstone & More!